The Fiscal Femme Accountability Community
MEMBERS ONLY
Get a fabulous community of money buddies to hold you accountable for reaching your financial goals.
If you:
💥 Would love to have monthly coaching support from me whenever you get stuck or have questions
💥 Want to be held accountable for taking steps toward your financial goals (so you actually take those steps!)
💥 Are looking for a community of money buddies all going after their financial goals
You've come to the right place.
I'm so excited to be sharing this new Fiscal Femme Accountability Community with you because setting up accountability in our money lives is one of the easiest and most important ways to maximize our results.
I've seen it work in my own life and have also seen it work over and over again with my clients.
This community is only available for those who have worked with me one-on-one or who have purchased one of the Fiscal Femme courses. This way you can have accountability and support as you are going through our programs and can continue your new amazing money habits long into the future.
Here's what you get:
💰Weekly accountability around a "money move of the week." At the beginning of the week, everyone shares an action they will take that week. At the end of the week, we report back and celebrate taking our actions.
💰Monthly live money mastermind calls. Each month, you'll have the opportunity to hop on a Zoom meeting live with me. I've found that we often get stuck or have a question that stops us on the way to our financial goal. A conversation and a little group coaching will remove those barriers and have us moving forward again with ease. I provide that framework and support via the monthly mastermind. Monthly mastermind meetings are held on the second Tuesday of every month from 12 pm - 1 pm EST.
While I recommend joining live for the calls, all of the mastermind calls will be recorded to allow you to watch them later. You can submit questions and concerns in advance to have them answered during the call.
💰A community of badass, non-judgmental money buddies who are out to achieve their financial goals and dreams. You will not only receive support from me but also from other members of the community who are committed to achieving their financial goals. Just like a gym buddy makes it much more fun to go to gym and holds us accountable, a money buddy does the same thing for our financial lives.
💰A 15% discount on all Fiscal Femme courses. Those in the community will get a 15% discount on any new course they purchase. We plan to continue releasing new courses each year.
💰Founding member pricing. Those who join the program before October 11th will receive a special discounted price only available to founding members. After October 11th, admission will be closed until some time in 2020.
The Investment:
Pay Quarterly ($25 per month)
Pay Monthly ($35 per month)

To Sign Up:
If you've already enrolled in a course or are a one-on-one coaching client, email ashley@thefiscalfemme.com to sign up.
Otherwise, you can purchase one of our four courses to get two free months in the community.
Doors close at midnight on Friday, October 11th.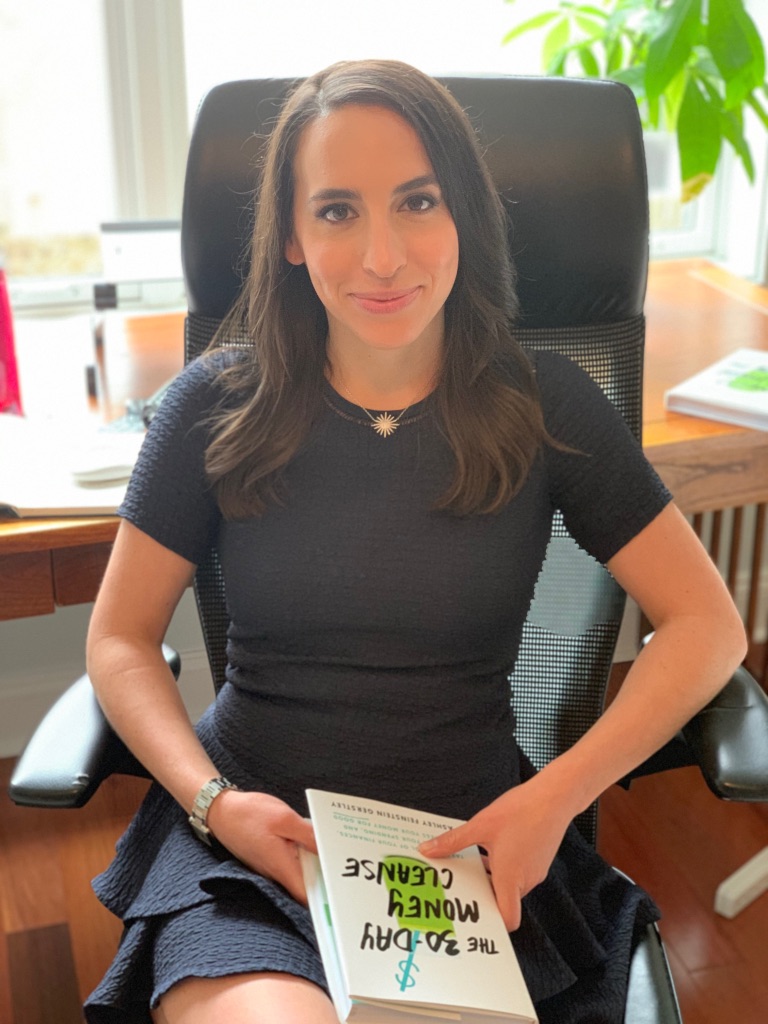 Since I started the Fiscal Femme in 2012, I've helped thousands of people feel financially confident, achieve some major financial goals and destress their money. I've given workshops and keynotes at companies like Google, LinkedIn, and Bacardi and my work has been featured in CNBC, Forbes, Glamour the NYTimes. My first book, The 30-Day Money Cleanse, was named Best Business Book of the Year (so far!) and Publishers' Weekly called it a "cheery and easy-to-follow guide" for "developing good financial habits and dealing fearlessly with personal finances."
But I think the most telling of all is what people who have worked with me and taken my programs are saying:
Confession: I really struggled with managing my money for a long time, even though I worked as an investment banker and had a finance degree!
Yep. Back in the day, I was working in the financial space, crunching numbers and dealing with budgets on a daily basis. And I was making a great salary, too.
Sounds like the beginning of a millennial fairytale-come-true, right?
Wrong.
While you'd think someone with a degree in finance and multiple years in the financial trenches would know a thing (or 20) about managing money, at the end of the day–aka the end of my investment banking stint–I didn't have anything to show for it.
I justified my overspending by telling myself I was working so hard, I deserved to splurge! What's a margarita here or a mimosa there?
Unfortunately, those margaritas and mimosas do add up. And despite all my experience, I didn't actually know how to make smart money decisions for my own life.
The bright side? I knew my relationship with money needed a MAJOR change if it was ever going to work.
Flash forward to today: I'm the founder and CEO of the Fiscal Femme, as well as an an author, money coach, and feminist who is on a mission to end inequality through financial well-being. I've read more books on money than I care to count and have helped thousands of people transform their financial wellness.
FAQ
Why would I spend money to save money?
This is my favorite question and believe me, I get the irony. First, when we pay for something, we're invested. We show up fully and we get results. I saw this when I raised prices on my first course. The participants' results skyrocketed. They were saving hundreds more and that made the value of the course increase exponentially - for them.
I'm also a big believer in investing in experts to save us time, money and added stress. By having support and access to me and the other members of this community, you will make up the money thousands of times over via reaching your financial goals. Not to mention the more subjective benefits like happiness, peace of mind and reduced shame and guilt.
I've got a full life. What's the time commitment?
To get the best results, I recommend committing a half hour to an hour per week to take action in your money life. Once per month we have a live money mastermind call, and that week the time commitment would be an hour more.
One of the biggest mistakes we make in our financial lives is not making time for it. Believe me, I don't want you to be spending any more time than you need to be dealing with your money. But in order to live the life you want, have a stress-free relationship with money and reach your goals, you will need to dedicate some time to this very important part of your life.
How do I sign up?
If you've already enrolled in a course or are a one-on-one coaching client, email ashley@thefiscalfemme.com to sign up.
Otherwise, you can purchase one of our four courses to get two months in the community, free.
Doors close at midnight on Friday, October 11th.
Where do I access this community?
The community currently lives in a secret Facebook group and the monthly mastermind calls will be on Zoom.
Can I do this on my own schedule?
Yes! You can share and contribute on your own schedule. I do recommend joining live for the monthly mastermind calls to get the best results. Monthly money mastermind meetings are held on the second Tuesday of every month from 12 pm - 1 pm EST.
Do you offer refunds?
I recommend committing to the community for three months before deciding to leave. Results and momentum are built off the actions we take. Once you start seeing your results and progress toward your goals, you won't want to leave! Because payment is on a monthly or quarterly basis, I do not offer refunds.
Who do I contact with other questions?
Feel free to email me directly at ashley@thefiscalfemme.com.