tackle your debt
Create a sustainable and manageable plan to pay down your credit card debt without the shame and guilt.
If you:
💥 Feel like you're running on a 'pay down your debt' hamster wheel, working really hard, and not making real progress
💥 Know there are better ways to handle your credit card debt but aren't sure what they are or where to start
💥 Are tired of the shame, guilt, and struggle that comes with managing your credit cards
Then you've come to the right place. I get it.
I got my first credit card when I graduated college and didn't really understand how they worked or all the ways they could get me in trouble. Way too many interest charges and fees later, I struggled to make on time payments and ended up damaging my credit.
That was almost ten years ago and since, I've learned so much through my own experience and helping hundreds of other people get a handle on and pay down their credit card debt.
I know what worked over and over again for them and I've created a step by step system for replicating those results for you via this program. I'm so excited to share it with you!
This is a ten week program that takes you through my step by step process to create a sustainable and manageable plan to pay down your debt. This program advocates for living a full and joyful life while making headway on your debt.
Here's what you'll walk away with
🌟 A debt pay down plan so you'll know how and by when you'll pay down your debt. This also includes how many and which pieces of debt to prioritize.
🌟 An easy tool for tracking your progress towards each pay down milestone
🌟 A roadmap for your spending so you can stay on track for each of your debt pay down milestones and goals
🌟 Strategies to decrease your spending (and put more money towards your debt) without giving up the things you love
🌟 A calculator to help you decide what annual credit card points are worth to you and which cards are worth the fees
🌟 A system to track, measure, and celebrate your success and keep yourself motivated along the way
Here's what you get:
💰Four 15-30 minute video classes and accompanying workbook exercises
💰Financial tools with accompanying video tutorials
Debt tracker template

Cash tracker template

Credit card analysis tool

Credit card cost calculator
💰A 10-week roadmap for the course
💰Unlimited access to the online course portal (you can rewatch the classes and access all the tools - forever)
💰The content is all online so you can watch it anywhere and any time - whenever works with your schedule
Tackle Your Debt is available for purchase through October 16th at 11:59pm EST. The course begins on October 17th.
2 Monthly Payments of $89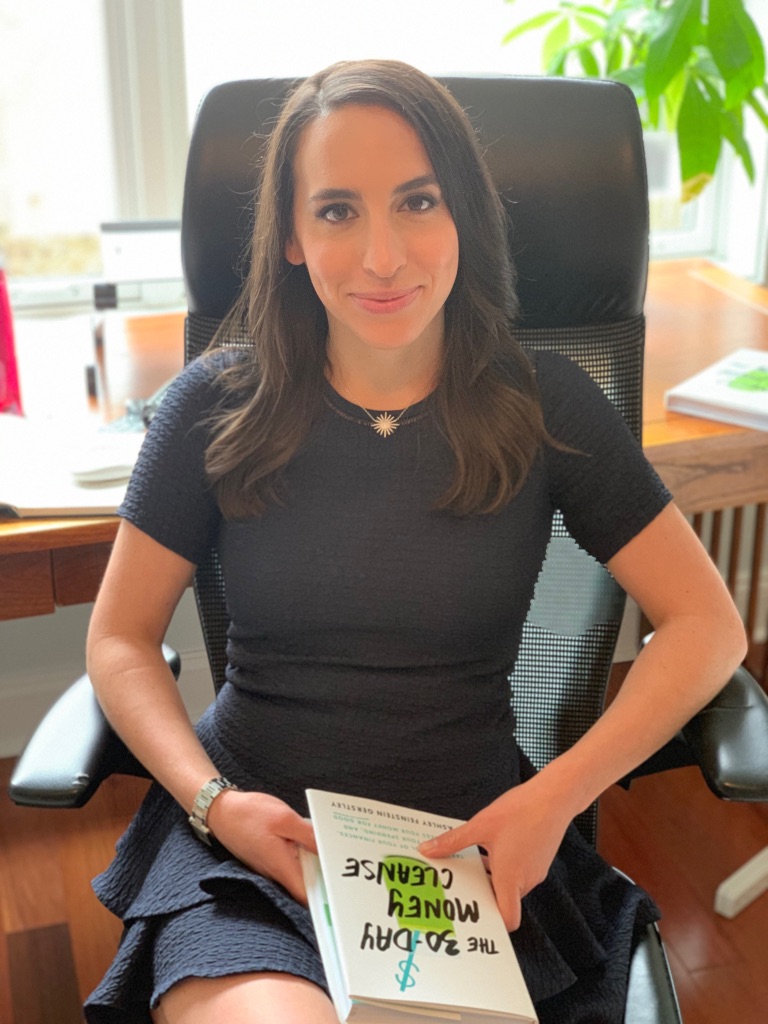 Since I started the Fiscal Femme in 2012, I've helped thousands of people feel financially confident, achieve some major financial goals and destress their money. I've given workshops and keynotes at companies like Google, LinkedIn, and Bacardi and my work has been featured in CNBC, Forbes, Glamour, and the NYTimes. My first book, The 30-Day Money Cleanse, was named Best Business Book of the Year (so far!) by Amazon and Publishers' Weekly called it a "cheery and easy-to-follow guide" for "developing good financial habits and dealing fearlessly with personal finances."
But I think the most telling of all is what people who have worked with me and taken my programs are saying:
Confession: I really struggled with managing my money for a long time, even though I worked as an investment banker and had a finance degree!
Yep. Back in the day, I was working in the financial space, crunching numbers and dealing with budgets on a daily basis. And I was making a great salary, too.
Sounds like the beginning of a millennial fairytale-come-true, right?
Wrong.
While you'd think someone with a degree in finance and multiple years in the financial trenches would know a thing (or 20) about managing money, at the end of the day–aka the end of my investment banking stint–I didn't have anything to show for it.
I justified my overspending by telling myself I was working so hard, I deserved to splurge! What's a margarita here or a mimosa there?
Unfortunately, those margaritas and mimosas do add up. And despite all my experience, I didn't actually know how to make smart money decisions for my own life.
The bright side? I knew my relationship with money needed a MAJOR change if it was ever going to work.
Flash forward to today: I'm the founder and CEO of the Fiscal Femme, as well as an an author, money coach, and feminist who is on a mission to end inequality through financial well-being. I've read more books on money than I care to count and have helped thousands of people transform their financial wellness.
FAQ
Why would I spend money to save money?
This is my favorite question and believe me, I get the irony. First, when we pay for something, we're invested. We show up fully and we get results. I saw this when I raised prices on my first course. The participants' results skyrocketed. They were saving hundreds more and that made the value of the course increase exponentially - for them.
I'm also a big believer in investing in experts to save us time, money and added stress. By setting up the systems and strategies provided in this course, you will make up the money thousands of times over via decreases in spending and increases in investments and income. Not to mention the more subjective benefits like happiness, peace of mind and reduced shame and guilt.
I've got a full life. What's the time commitment?
To get the best results, I recommend a time commitment of an hour and a half per week. You can break up that hour and a half however you'd like.
What if I don't end up doing the course?
To get the results, you actually have to take the course (I know… I'm sorry!) That's why I'm so excited to offer the limited time bonus of the community for accountability. I'll hold you accountable each week for taking the actions in the course. Accountability really works. We'll even have monthly mastermind calls.
Can I retake the course?
Yes, you have lifetime unlimited access to the program.
Where do I take the course?
Everything is available in the online course portal. You'll get a unique login to access it as soon as you purchase the course.
Can I take it on my own schedule?
Yes! You get to create your own schedule because it's all online. You can access the course anytime and anywhere, and you'll do it at your own pace.
Do you offer refunds?
Yes, I'm so confident in this program that if you take the classes and do the exercises (and send me the completed work) within the first two months and are not happy with your results, I'll give you a 100% refund.
Do you offer payment plans?
Yes! I would hate for someone not to get access to this program and system because of money. I've outlined a two month payment plan to help.
You can get access to the "Tackle Your Debt" course for
1 payment of $147 OR 4 payments of $89.
Tackle Your Debt is available for purchase through October 16th at 11:59pm EST. The course begins on October 17th.
2 Monthly Payments of $89